As a dietitian, I encourage reducing processed foods if they are the majority of your diet or don't make you feel good. Of course focusing on whole foods, fruits and veggies is important for all of us to meet our micronutrient and fiber needs. HOWEVER, I am always asked by clients, "Are there any good healthy processed foods out there?"
 The answer is YES. I would be lying if I said I didn't eat processed foods almost everyday. Nobody has the perfect diet and that's OK. Just because something is processed does not mean it is "bad".
Thank goodness, right? Many responsible food companies are doing their best to provide quality processed options for people on-the-go and in need of quick, sustainable options.
If you think about it, almost all foods at the grocery store have been through some type of processing. For example, just because veggies have been flash frozen and bagged, doesn't mean they are an unhealthy choice.
Here a few of my top favorite processed foods:
Bars- Although I prefer to make snack pairings that consist of whole foods and produce, sometimes you just need something easy to grab on your way out the door. I am frequently asked about recommendations for protein bars, so here are some of my favorite options made with high quality ingredients.
RX Bars (I use the kids' as a snack option)
Epic Bars: Meat Bar
Nuts & Nut Butters (watch out for added sugars)
Roasted Nuts
Seeds
Beans & Grains
Dried or canned beans of all kinds! 
Brown Rice (90 Second)
Popcorn (add nutritional yeast to plain popcorn to make it cheesy and give it extra protein)
Protein
Jerky (I make my own but like this brand as well)
Smoked Salmon (I make my own but like this brand as well)
Dairy
(Check out my Overnight Oat/Yogurt Parfait Recipe)
Individual Cheese and Cottage Cheese
Fruits & Veggies
Dehydrated & Dried Fruits & Veggies
(See Caulipower Pizza Recipes)
Other healthy processed food staples:
Sauces & Oils
Olive, Avocado, Sesame, Peanut, and Canola Oils
Vinegar
Balsamic, Red Wine, White Wine
Sauces & Dressings (Avoid added sugar)
Seasonings (I LOVE this EVERYTHING SEASONING)
Coffee, Tea & Treats
Try making homemade trail mix with the help from my blog "How to Make Healthy Trail Mix"
These options can be great healthy processed foods for camping, outdoor activities or simply "emergency snacks" for the car or your purse! Having easy staple ingredients on hand and available is often a barrier for people. Don't overthink it! Choose what you like and be flexible with your food choices.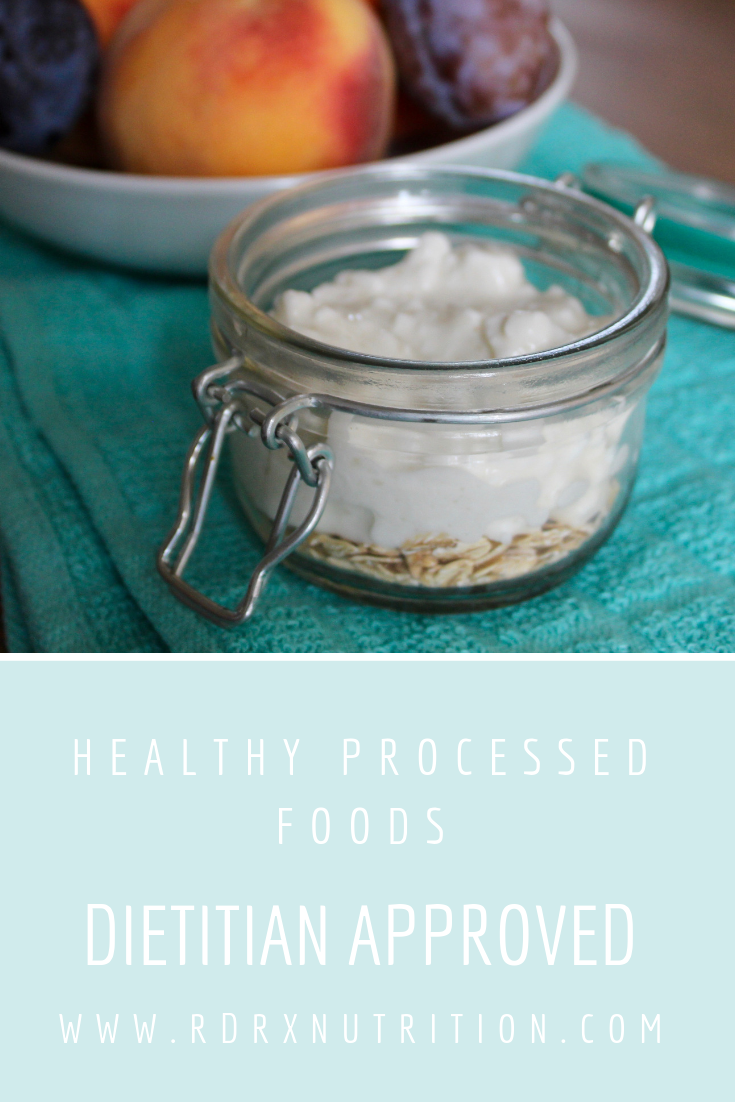 ***All the links provided are brands I personally like and trust. There are millions of options out there